Money in the Bank Ladder Match
WrestleMania 25
Multi-man ladder matches at WrestleMania are a bit of a tradition at this point, but they're always a good time, and this bout, in particular, was no exception to the rule. CM Punk actually won the MITB ladder match at WrestleMania 24 the previous year, so it didn't seem likely that he would capture the briefcase yet again. Of course, it is WrestleMania, where anything is possible, and fans know to expect the unexpected.
---
CM Punk vs. Daniel Bryan
WWE Championship No DQ Match
Money in the Bank 2012
Each time Daniel Bryan and CM Punk faced off was must-see television for hardcore wrestling fans. This was one of many great matches between the former Ring of Honor stars, although it wasn't their best performance together (more on that later).
---
CM Punk vs. Alberto Del Rio vs. The Miz
WWE Championship TLC Match
TLC 2011
One of two TLC Matches on the list, and a bit of a hidden gem, if we do say so ourselves. Not too many folks talk about his bout online for whatever reason, but it's an excellent watch and a true showcase of how good CM Punk can be in an environment that allows for the use of weaponry.
---
CM Punk vs. Jeff Hardy
World Heavyweight Championship TLC Match
SummerSlam 2009
One our favorite TLC matches of all time, and the in-ring highlight of the Jeff Hardy/CM Punk feud from 2009. The entire feud is worth checking out on the Network, even if you've seen it before, so add those episodes of SmackDown to your watchlist ASAP.
---
CM Punk vs. Brock Lesnar
No DQ Match
SummerSlam 2013
On paper, CM Punk versus Brock Lesnar is a mismatch of epic proportions. However, arming the Straightedge Savior with any and everything he could get his hands on leveled the playing field quite a bit, helping to establish him as a legitimate threat against The Beast. Seriously, Punk is so good in these types of matches.
---
CM Punk vs. Chris Jericho
Payback 2013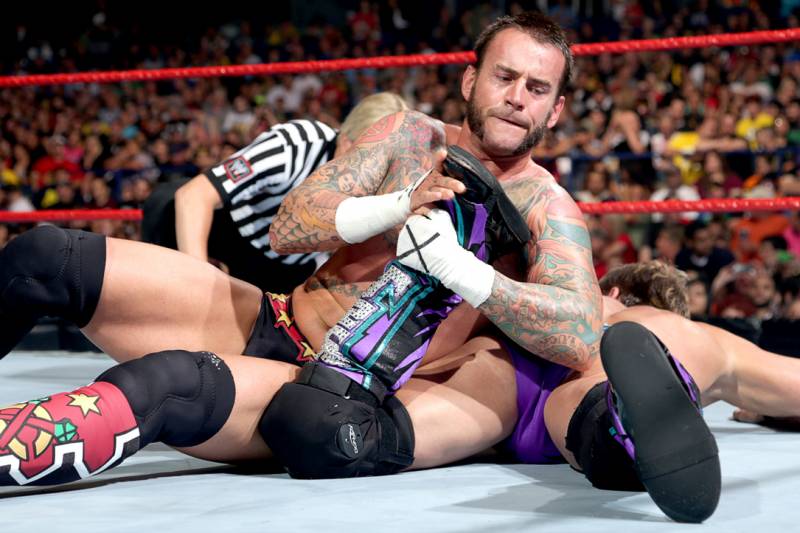 Chris Jericho and CM Punk are two of the best in the world at what they do, so it's no surprise that a feud between the two would make for excellent television. There's more than one good Punk/Jericho match on the Network (their bout from WrestleMania 28 was also quite good), but we like this one the most.
---
CM Punk vs. Daniel Bryan
WWE Championship Match
Over the Limit 2012
Like we said earlier, every Daniel Bryan/CM Punk match is worth the watch, but not a single one of them on the Network is better than this one. These two were given about 25 minutes to tell a captivating story in the ring and that's exactly they did. Truly a modern day classic, and one of our favorite matches of all time.
---
CM Punk vs. John Cena
WWE Championship #1 Contendership Match
Raw #1031 (Feb 25 2013)
CM Punk's greatest rival in WWE was arguably John Cena. The two were often the biggest stars in the company, despite being polar opposites, which led to some amazing matchups and moments. Watching them wrestle for over 25 minutes on an episode of Raw, for the opportunity to face the WWE Champion, no less, is as good as it gets.
---
CM Punk vs. The Undertaker
WrestleMania 29
This bout is our favorite Undertaker WrestleMania match of all time. The atmosphere that is WrestleMania always adds another layer to a match, and The Undertaker's streak was a showcase spot on the card at the time, so it just feels big. Speaking of the streak, this was the last year that it successfully defended, which is a neat tidbit. The match also features the best and most believable false finish of any streak match in WrestleMania history.
---
CM Punk vs. John Cena
WWE Championship Match
Money in the Bank 2011
The most famous wrestling match of this decade and one of our favorite bouts of all time, this one is truly the result of a perfect storm. Cena and Punk were tailor-made opponents, the angle that centered around Punk leaving the company was hotter than hell, and the fact that the match took place in Chicago, Punk's hometown and home of the best wrestling crowd in the country, all helped make it the outstanding performance that it was.
---
What's your favorite CM Punk match? Let us know on Twitter, @TheRumbleRamble.